"With your help I can continue to work hard on the issues that matter.
Together we can make a difference!" Don Frantz
---
Responsible and Balanced Growth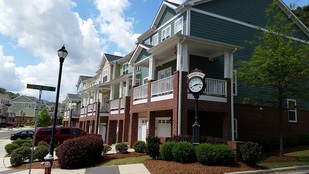 The question isn't will we grow, it is how we will grow that matters. As a member of the council I have supported a balanced growth approach that focuses on quality over quantity and maintains a reasonable 3% growth rate. This helps to ensure that infrastructure and services keep pace with growth and that any new growth does not further burden surrounding communities. I support development that protects the character and charm of existing neighborhoods and oppose that which does not. I know the word "NO" and am not afraid to use it when a proposed development does not meet the community's expectations.
---
---
Job Creation and Economic Growth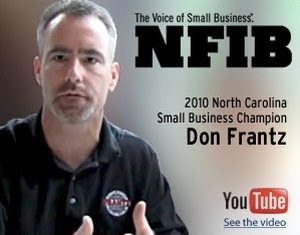 Quality of life doesn't mean much if you don't have a good paying job. During my time on the council I have worked hard to create a business friendly environment that encourages business growth and creates jobs. Sound fiscal policy, low taxes and reduced government bureaucracies have resulted in significant business growth in Cary and at 3.5%, one of the lowest unemployment rates in the nation.

There are now more Cary citizens working in Cary than those who commute outside town limits for work. That was not the case before I was elected. As a successful businessman I know what it takes to create jobs in a tough economy. As a parent of six I know how much that matters.

Cary is now a significant player in the state and southeast in regards to job creation and retention.
---
---
Environmental Protection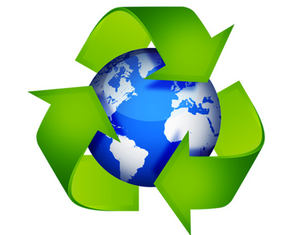 I have a proven record of supporting initiatives that further protect our environment, improve water quality and reduce stormwater runoff. Some examples of initiatives I have supported are:
Expanded Cary's recycling program by increasing the types of recyclable material, thus reducing the amount of trash we put in our landfills by more than 100 tons per month.
Backed Cary's SPRUCE program that consists of initiatives such as biannual town-wide litter sweeps, Adopt-a-Spot opportunities, garden projects, tree plantings and outdoor improvement projects in public places.
Supported the creation of Cary's first ever Environmental Advisory Board.
Strengthened Cary's storm-water runoff regulations.
Supported a number of stream restoration and flood control projects.
Worked with Chatham County to create a joint land use plan to that helps to preserve the character and charm of Chatham County and better protects Jordan Lake.
Strengthened Cary's mass-grading and champion tree regulations.
I have supported quality development projects that reduce building footprints and impervious surfaces that preserve greater amounts of open space.
---
---
No Bull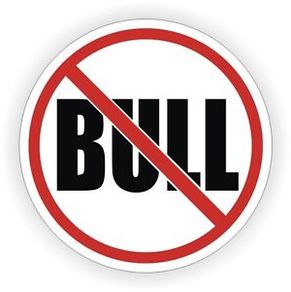 We are all tired of elected officials who say one thing and then do another. That isn't me. As a member of the council I have earned a reputation as a no-nonsense pragmatic leader. I say what I mean and mean what I say.

My values and life experiences are what guides me - not political ideology. Common sense solutions and principled leadership will continue to move Cary forward - not partisan politics. There is nothing partisan about water and sewer, public safety and good roads.

I believe that a transparent government is an inclusive government. That is why I work very hard to communicate with Cary citizens both through my blog and social media. You, the voters deserve to know what is is I am doing on the council and how I vote. I do work for you after all. We may not always agree, but you will always know where I stand.
---
---
Downtown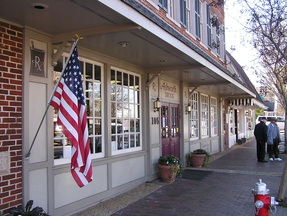 One of the reasons I first ran for council was that I was disappointed with the town's efforts - or lack thereof - inside and around the Maynard loop and Downtown. Sure, the town talked a good game downtown, but nothing was happening.
That is no longer the case
.
I have worked hard to ensure that Downtown and "old Cary" receives their fair share of town investments while at the same time further promoting economic development. I fought to make sure that Cary kept its promise to build a
signature park downtown
and not allow the majority of this land to be developed.
I championed the redevelopment of Cary Elementary into The Cary Arts Center. This project was completed on time and $3 million under budget.
I have also supported a number of infrastructure improvements, streetscape projects, festivals, public-private partnerships and the elimination of cumbersome regulations downtown to further promote private investment.
There is now a buzz and excitement in downtown Cary like never before
. New restaurants, office uses and retail are locating in and around downtown including
the BEST New Brewery in America
!
As a result of our efforts the real estate market inside the Maynard Loop is now one of the hottest in the country. A healthy and vibrant town core benefits all of Cary. With your continued support great things will continue to happen in and around downtown Cary!
---
---
Complete Representation
While I am the District B representative on the Cary Council, I not only represent those citizens and business owners in the district, but throughout the entire town. All council members do.

I work just as hard to respond to citizen concerns and issues outside the district as I do those who live and work inside the district.

So no matter where you live or work, please don't ever hesitate to contact me. I am here to help. You can reach me on my cell phone at 919-469-5423 or you can email me at

don.frantz@townofcary.org.

Some examples of my work inside and outside of the district include:

Cameron Pond Buffer Revegetation
Preserved the Cary High School/Maynard Road Water Tower
Federal ICE Detention Facility
Veteran's Freedom Park Memorial
Google and AT&T Fiber projects
Instituted Priority-Based Budgeting
Odor issues at the South Cary Reclamation Facility
Open Data initiatives
Facility and Sound Improvements at Koka Booth Amphitheater - More Events/Popular Artists
Chatham County/Cary Joint Land Use Plan
Opposed Cary's Involuntary Annexation Efforts
Bass Pro Shops, MetLife, SAS Expansions, Mayton Inn
Numerous sidewalk and greenway improvement projects
Eliminated Cary's Red-Light Cameras
Western Wake Water Reclamation Facility - completed on time and under budget
Silverton/Silver Oaks Signage Issues
Project Phoenix and Geopolicing
Animal Issues Task Force
Carpenter Park, Jack Smith Park, Sk8Cary and the Downtown Park
Sign Ordinance Task Force
School Assignment Issues and Concerns - Initiated and Hosted Cary's Climate for Student Success Forum
Expanded Cary's Housing Rehabilitation Program
New Town Website, TV programming and Social Media Efforts to Better Communicate with Citizens
Recruited and Hired New Town Manager and Town Clerk
Created Cary's First Ever Historic Preservation Master Plan and Commission
Paid for by Frantz for Council
109 Canyon Run
Cary, North Carolina 27513