"Thank you for your faith and trust in me to serve as your voice in town government." Don Frantz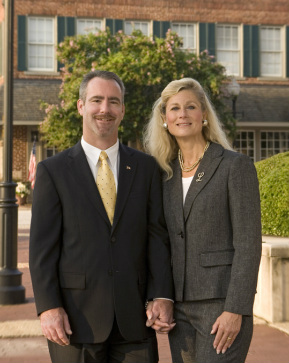 Don and Lisa Frantz are the proud parents of six children and the owners of Frantz Automotive Center in Downtown Cary. Like so many in our community, for Don, family is the center of his life.

In addition to career and family, Don has always been very involved in his community. In 2007 he was elected to the Cary Town Council as the representative for District B where he also serves as the council liaison to the Parks, Recreation, and Cultural Resources Advisory Board and The Friends of the Page Walker. Don has also served on Wake County's Growth Issues Task Force and Transit Advisory Committee.

Both he and Lisa have been active members of the Cary Elementary PTA, Cary IMP Club, and function as boosters for numerous area civic groups. Don served as president of the Heart of Cary Association from 2005-2007.

As a business owner, Don's background gives him first-hand experience with many of the challenges facing Cary today, as well as the role that good customer service plays in any organization's success. As a member of North Carolina's National Federation of Independent Business Leadership Council and the Cary Chamber of Commerce, Don works hard to support our local and regional business economy.

Don believes the role of government should be to provide the highest quality of life for its citizens at the lowest possible cost to the taxpayer. Along with a focus on economy and jobs, public safety and protecting our environment, Don's priorities have helped to renew Cary's strength in the region and beyond. Don's commitment to excellence, his ability to find common ground in working with others, and his no-nonsense common sense approach have earned him the trust and respect of the community, and have resulted in multiple awards and recognitions from business colleagues.


---
Professional Achievements:

Owner, Frantz Automotive Center
2010 NFIB Small Business Champion of the Year
Top 100 NC Small Business, Business Leader Media
Top 50 Entrepreneur of the Year, Business Leader Magazine
2008 Cary Chamber of Commerce Small Business of the Year
Top 10 Repair Shop in the Nation, MotorAge Magazine 2007, 2009
Voted "Best of Cary" Cary News, 2004, 2008, 2009, 2010, 2013 and 2014
Grand Marshal, 2010 Carquest 300 at Charlotte Motor Speedway

Public Service:

Member, Cary Town Council 2007 - current
Member, Town of Cary Planning and Zoning Board 2005-2007
Member, Town of Cary Citizen Budget Review Commission 2004-2005
Representative to the Triangle J Council of Governments Smart Growth Committee
Council liaison - Parks, Recreation, and Cultural Resources Committee
Wake County Growth Issues Task Force
Wake County Transit Advisory Committee
Cary Chamber of Commerce Community Service Award
Civic Involvement:

National Federation of Independent Business (NFIB) Leadership Council
Cary Chamber of Commerce
Heart of Cary Association, Past President
Cary IMP Club
Cary Elementary PTA
Friends of the Page Walker
Vocational Education Advocate
Booster and Volunteer for Numerous Area Youth and Civic Groups



---
Paid for by Frantz for Council
109 Canyon Run
Cary, North Carolina 27513